ANLEON P1/C Wireless Lavalier Microphone System for Canon Nikon Cameras & Camcorders Recording, YouTube, Vlogging
This system includes a camera-mountable receiver, bodypack transmitter, and lavalier microphone. The Transmitter is designed to sit comfortably and discreetly on the user's belt or clothing,using the belt clip supplied.The Receiver is designed to connect to your camera shoe mount. The transmitter is equipped with a muting function and a microphone input connector. It is also equipped with a MIC/LINE input switching function to support a variety of input levels.The receiver and transmitter are powered either by 2 x AAAlkaline batteries or a suitable USB power source via the Micro USB connector. Connect the microphone to the Transmitter Mic Input. Set the five input level gain (-6db,-3db,0db,+3db,+6db).Connect the receiver to your camera . Check your camera's audio input level to ensure your signal is not clipping.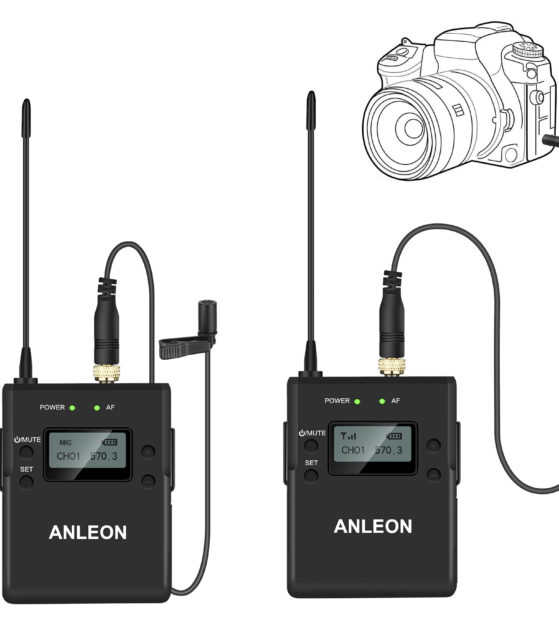 RF Frequency Range : 570-590MHz
Channel : 40
Headphone output : 3.5mm jack socket
Operating Range : 100m/ 330feet (environment dependent)
RF Output Power : <10mW
Signal-to-noise Ratio : 70 db
Frequency Response : 50Hz~18KHz
P1/C Wireless Portable Microphone System is intended for portable wireless operation, such as video and field recording applications. ENG (Electronic News Gathering), EFP (Electronic Field Production), sports events, and weddings.
Location
QINGHUKEJIYUAN B1079-1087,QINGHU, LONGHUA, SHENZHEN 518000,China
Let's get social!
Check out our social profiles!